London, famous for it's royalty, fashion and landmarks is by far one of the most diverse culinary cities in the world. The High Tea, a tradition dating back generations, is a delightful version of afternoon dining which includes a variety of teas, savoury and sweet canapes, all served in an elegant setting. London restaurants have been trying to perfect the High Tea for years, but these four stand above the rest.
#1 The London Royal Tea
Hotel Cafe Royal, one of Regent streets finest establishments offers the most luxurious, unique high tea in London. The Oscar Wilde Bar, originally established in 1865, is a romantic, elegant setting with original Louis XVI decor, it will have you speechless. Add to this a completely Londenized menu, with items such as the Battenberg Underground macaroon, Pearly King and Queen Opera Spitfire lollipop and Raspberry "Regent" Victoria sponge and you have by far, the best high tea in town. Tip: try the 'Coconut Noir' tea, it was my personal favourite!
Where?
68 Regent St, London W1B 4DY
Phone: 

020 7406 3333  // http://www.hotelcaferoyal.com  // Starting at £42pp
#2 The Gluten Free High Tea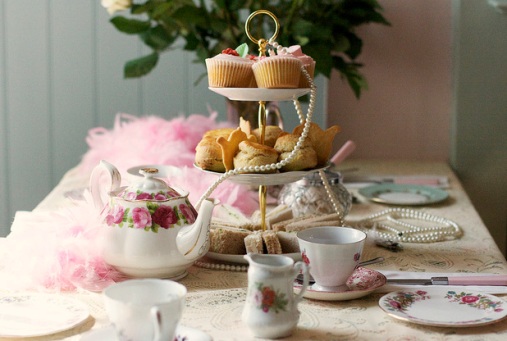 (source)
Bake-a-Boo delivers the cutest, most adaptable high tea in London. The vintage cafe offers the classic delights such as the Victoria sponge and coffee cake. The menu can be adapted to suit your tastes, with the friendly staff also offering up a few low sugar options, dairy free and of course, gluten free!
Where? 86 Mill Lane, West Hampstead, NW6 1NL
Phone: 

020 7435 1666 // http://www.bake-a-boo.com/ // Starting at £19.50pp
#3 The Classic High Tea
Londoners love the classic touch of the romantic Fortnum and Mason. The cakes, all fluffy, cream filled and delicious have you wanting more, whilst the boutique style restaurant is always welcoming.  This is a great choice for Valentines or an anniversary lunch.
Where? 181 Piccadilly, London, W1A 1ER
Phone: 020 7734 8040
  // https://www.fortnumandmason.com // Starting at £44pp
108 Pantry is a modern choice for an enjoyable high tea. You can opt for the Healthy, Classic and Indulgent menus, alongside traditional afternoon tea favourites. The bright and entertaining venue is great for the younger gen's who prefer a more casual setting.
Where? 108 Marylebone Lane, London, W1U 2QE